Tips and Tools
The "Legacy Tips & Tools" free monthly e-letter shares new ideas, practical methods,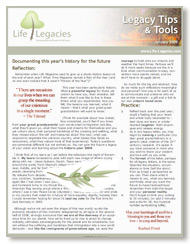 and inspiration. It's meant to encourage you to stay connected to your goal of providing a written legacy to future generations: to pass on your history, identity, values, love, stories, and wisdom to those you love.
To subscribe, please fill out and submit the form below. The information you provide will not be shared or given to anyone. If you have any questions, please contact me.
May all your legacies be blessings, Rachael Freed.